Pharr Hosts President of National Council of Textile Organization
President toured McAdenville facility, addressed key industry challenges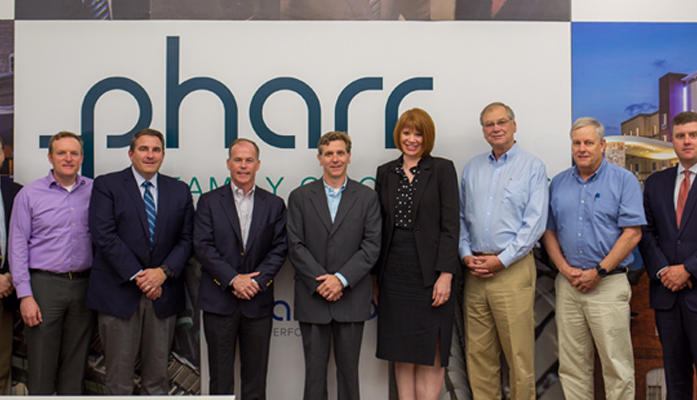 The National Council of Textile Organizations (NCTO) President and CEO, Kim Glas, toured Pharr and presented a policy update at the Pharr Showroom in McAdenville, N.C., on Thursday, May 16, 2019.
"We were pleased to host NCTO for their press conference and media Q&A last week," said Bill Carstarphen, president, and CEO of Pharr. He continues, "At Pharr, we pride ourselves on the ability to anticipate the market's future needs and collaborate with partners to propel the industry forward. Hosting NCTO in McAdenville and walking Kim through some of the innovative strategies we're implementing was an honor for the entire Pharr family of brands."
Activating support for the U.S. Textile Industry in the 21st Century, the NCTO is a unique association representing the entire spectrum of the textile industry. Glas, the new head of the textile industry's trade and lobbying group, NCTO, discussed a range of Washington policy issues impacting the industry, including the status of the U.S.-Mexico-Canada-Agreement, USMCA and the Section 301 tariffs on Chinese imports.
NCTO is a Washington, DC-based trade association that represents domestic textile manufacturers, including artificial and synthetic filament and fiber producers.
U.S. employment in the textile supply chain was 594,147 in 2018.
The value of shipments for U.S. textiles and apparel was $76.8 billion in 2018.
U.S. exports of fiber, textiles and apparel were $30.1 billion in 2018.
Capital expenditures for textile and apparel production totaled $2.0 billion in 2017, the last year for which data is available.